I carry my "mobile office" around with me most of the time. It usually contains my precious laptop, notes and at least 3 books. My life is on that laptop. I usually try not to think of what would happen if it was to randomly blowup into flames. Can you imagine that? I don't want to. It would be a small business nightmare "did you backup".
The Big Guys
Even thinking back to my days as an employee, my employers no matter how big or small they were didn't ever seem to be backed up enough. Only once in my life has my computer came close to blowing up into flames. About half of the information was restored, the other half…completely gone into the ether. I was at a worldwide half billion dollar per year company. And they were not ensuring that their precious data was completely backed up.
What if that happened to your business today?
Are you prepared for a crash and burn with one of your systems? How long would it take you to get back up?
I cringe at the thought. I make my living by using my computers. I wake-up each morning with the expectation that they will perform well for me.  Maybe I find piece of mind in knowing that I use a reliable online backup company to keep my precious data protected and safe.
iDrive Backup Software
Right around the launch of Lense and Co, I was attending a local conference. That is one of the many reasons that I love living and working in the San Francisco Bay Area, there is always something going on. I was networking and educating myself on all of the software and tech companies that were displaying there. I ran into an interesting one, iDrive.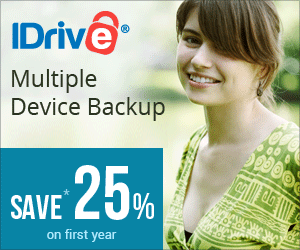 Initially the words that were coming out of the rep's mouth sounded like gibberish. Then I began to understand the importance of what he was saying to. It was a no brainer for me and I liked their free trial option.
Reliability
Two years later and I am still a happy customer of iDrive (Code: Lense). So happy that I signed up for their affiliate program. I got a notice this week that made me realize something…I realized that I have been selfish. I know how reliable their online backup software is and I am not sharing this information with my clients or my online audience. Today I am vowing to do better. I love sharing good information with you, I want you to succeed.
Click on the link below and get a special intro with iDrive. Try it and let me know what you think. Two years strong and it hasn't let me down once. These days, I can't say that confidently about many things.
Try iDrive Online Backup  SignUp  Promo Code: Lense